Что такое паттерн (pattern) в CS:GO
Статьи
Все новички рано или поздно интересуются скинами CS:GO, они позволяют менять внешний облик ножей и различного оружия. Так или иначе, что такое скин знают большинство игроков, в отличие от слова «паттерн». Каждый игрок мог слышать фразу «редкий паттерн», однако не всем известно, что эта фраза обозначает. Обменять скины любых качеств можно в апгрейд кейсов cs:go
Что представляет из себя паттерн простым языком
Каждый скин состоит из двух важных составляющих: модельки оружия и его «обертки». Так называемая «обертка» и является паттерном, а если точнее, она представляет из себя узор, имеющий особый отблеск.
Значение (номер) паттерна
Каждому скину присваивается уникальный номер паттерна. Значения могут варьироваться начиная от 1 и заканчивая 999 номером. Это число присваивается скину во время создания и изменить его не представляется возможным даже во время продажи или обмена.
Условно, скины, имеющие паттерн делятся на два подвида:
В нём находятся скины, на внешний облик которых никак не влияет номер паттерна. Можно взять в пример AK-47 Asiimov, который никак не изменяется, какое бы значение паттерна не было ему присвоено. Они все имеют идентичный узор и различаются лишь потертостями износа.
Сюда попадают скины, которые как раз таки меняют свой внешний вид вместе со значением присвоенного им паттерна. Например Case Hardened. Если посмотреть на два одинаковых скина, но с разными паттернами, к примеру 316 и 656, можно заметить, что они уже будут значительно отличаться. Первый из них будет иметь пятнистую золотую окраску, а второй практически полностью окрашенный в синий магазин.
Редкие паттерны
Так как номер присваивается случайным образом, иногда скины имеют более интересную и привлекательную окраску, нежели другие. К таким примерам можно отнести явление, под названием Blue gem. Это наименование скинов, которые практически полностью окрашены в синий цвет. Все они очень ценны, а потому стоят довольно дорого.
Что такое износ, или «float»
Стоимость скина определяется не только значениями паттерна. Также немаловажную роль играет такой параметр как износ. Всего в игре их 5:
Прямо с завода
Немного поношенное
После полевых испытаний
Поношенное
Закаленное в боях
Именно износ обозначает вид паттерна и его состояние на скине. Таким образом, тот же самый скин в разных состояниях может иметь разную структуру и, соответственно, стоимость.
Что значит паттерн в кс го
Ниже "гайд" по новому паттерну, введённому в Хрома кейсе: Волны.
Есть несколько разных паттернов под названием Волны.
Мифический ( Стандартный паттерн ):
Фаза 1 и Фаза 2 имеют смешанные фиолетовые и розовые цвета.
Фаза 3 и Фаза 4 имеют смешанные черныи и синие цвета (иногда немного зеленых пятен).
Легендарный (Редкий паттерн)
Рубиновый паттерн является полностью яркой красной, стиллизованной под кристалл, расскраской.
Сапфировый паттерн имеет 2 вида: Полностю кристально-синий цвет и паттерн, имеющий фиолетовые отблески на солнце.
Древний (Очень редкий паттерн)
Это самый редкий паттерн Волны, много тайн окутало этот скин, но если посмотреть здраво, то это просто полностью черная кристально отзеркаленная текстура.
Full CS:GO Patterns Guide
When playing CS:GO, you probably wondered why the same skin, with the same quality, can vary greatly in price. And it's all about the uniqueness of its pattern. In this article, you will learn what CS:GO patterns are, and how they affect the price of skin.
In article you will find:
What Is a CS:GO Weapon Pattern & How Does it Work?
A CS:GO pattern is a numbered designation of an image model on a skin. Many skins have different options for applying an image, and each of them is assigned a separate number. Depending on it, the price of the skin may be higher than on the marketplace. Most often, interesting patterns are on knives, but sometimes there are unique colorings for ordinary skins. The pattern number can be viewed in the Inventory directly in the CS:GO. But what are the pattern numbers, and what do they affect?
What is a Pattern Number in CS:GO?
A pattern number is a number from 0 to 1000 which indicates the shape of the pattern depicted on the skin. You can see it when inspecting weapons. Let's take the M4A4 | Zirka as an example. As you can see, his pattern number is 843.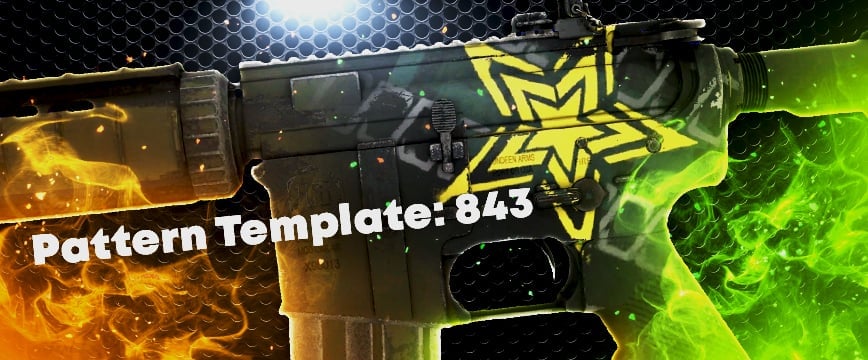 Pay attention to the position of the yellow star on the skin. It is located in the center and visible almost completely. Now compare it with pattern number 227.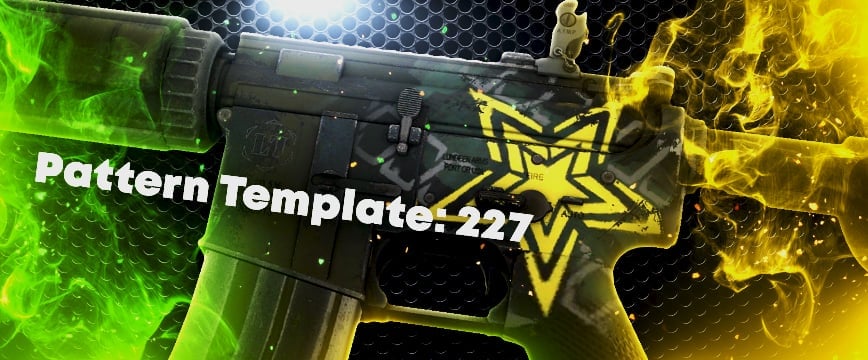 Half of the star is on the non-game side and the whole drawing already looks different, this is how the CS:GO pattern changes the appearance of the skin.
That is an example of a dynamic change in pattern. Also, there are patterns that do not change the model of the drawing itself in any way, and it is identical for any value. The difference in the patterns of this skin does not change its appearance making it unique or original. There are skins with rare patterns.
What are Rare CS:GO Patterns?
Rare is cs:go patterns that are very different in the pattern on the skin or additional details. That makes the skin unique and directly affects its value. To make it more clear to you, let's take AWP | PAW. Here's what regular skin looks like: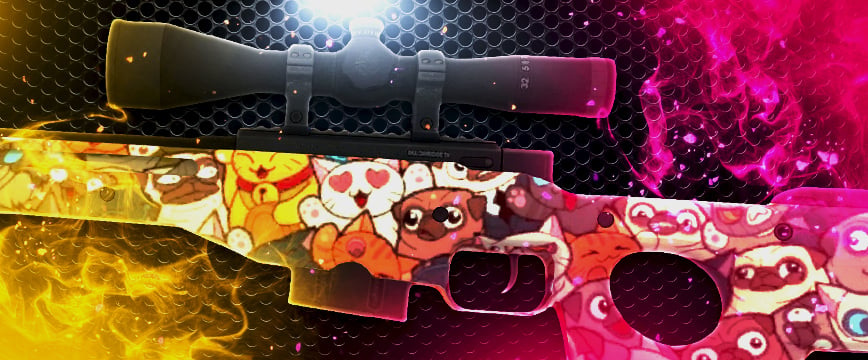 And here is the same skin of the same quality, only they have a small difference. It depicts a golden grenade, which is the uniqueness of the pattern.
If the skin in the first photo costs $5.53, then the second one costs $155.84, which is already thirty times more expensive. But this is not the only feature of this skin. Look at the next picture: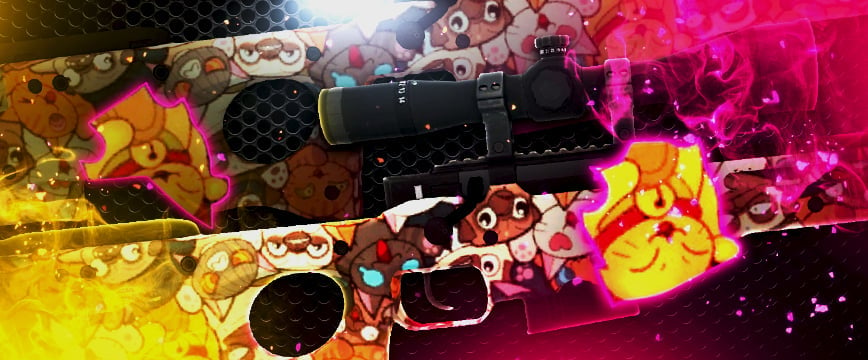 The golden cat is another of the details which give this skin its value. Its price on the Steam market is $519, and it is the most expensive AWP | PAW skin in Factory New quality.
It is also worth mentioning that the price of the skin is affected not only by the presence of unique parts but also by their location in the picture. For example, a golden grenade on this sniper rifle will not be visible during gameplay if you do not inspect the weapon, respectively it will be valued a little less.
We already mentioned that the image on some skins changes depending on the pattern, and some are always the same. That is because they belong to different types of CS:GO patterns.
CS:GO Weapon Pattern Types
Generally, CS:GO patterns can be divided into three main groups.
Static Pattern
Patterns that do not affect the appearance of the weapon. Vivid examples of this category of patterns are the AK-47 | Vulcan and the USP-S | Kill Confirmed. No matter how much the player goes through the weapons in the store with these skins, they are all identical to each other.
Semi-dynamic Pattern
Patterns affect the appearance of weapons, but this is not particularly noticeable. Examples include Sawed-Off | Rust Coat and AWP | Pink DDPaT. The appearance of the skin is not repeated here, but it is noticeable if you look closely at the weapon.
Dynamic Pattern
CS:GO patterns that affect the appearance of weapons. For example, it will be difficult to find two identical in the appearance of Glock-18 | Grinder or AK-47 | Case Hardened.
The latter, under certain conditions, can cost an impressive amount of money. Let's look at what affects its price tag.
Case Hardened Patterns
This AK-47 skin was added to the game quite in the first CS:GO Weapon Case a long time ago. And it has a unique golden-blue color scheme. Players highly value the presence of blue on this skin, especially on the side of the weapon that is visible in the game.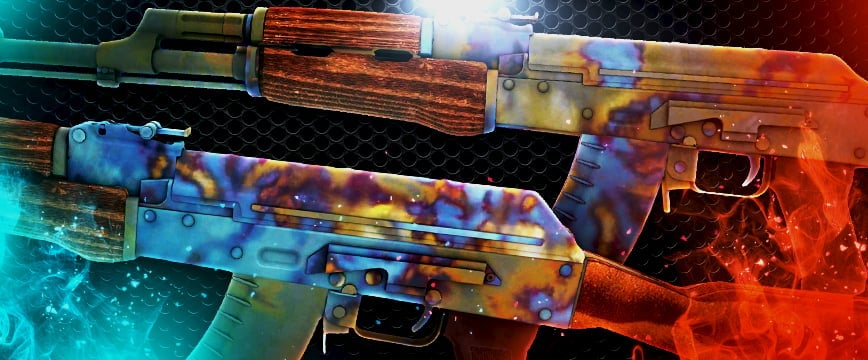 This trend applies not only to the AK-47 but also to knives and other variations of weapons with this skin. The same situation is with the Fade patterns.
Fade Patterns
Skins with this coloring are dominated by three colors – orange, yellow, and purple. Players especially appreciate the presence of purple. Accordingly, the more purple the more expensive you can sell your skin. To make it clear for you, here are two examples, the first picture shows the usual AWP | Fade, and the second is a rare one: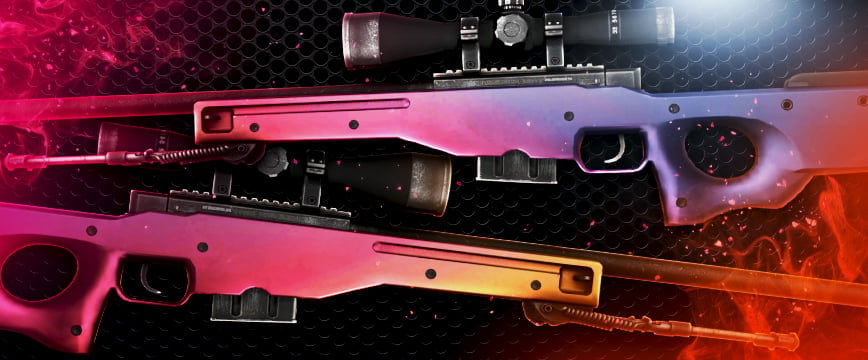 As for another variation of the Fade skin, namely Marble Fade, there are some nuances here. The color scheme of the skin is three colors, yellow, blue, and red. This skin is not on any of the weapons except the knife. Most appreciated is his coloring in the style that the community calls "Fire & Ice". The real "Fire & Ice" has no yellow at all and is the most expensive Marble Fade skin pattern.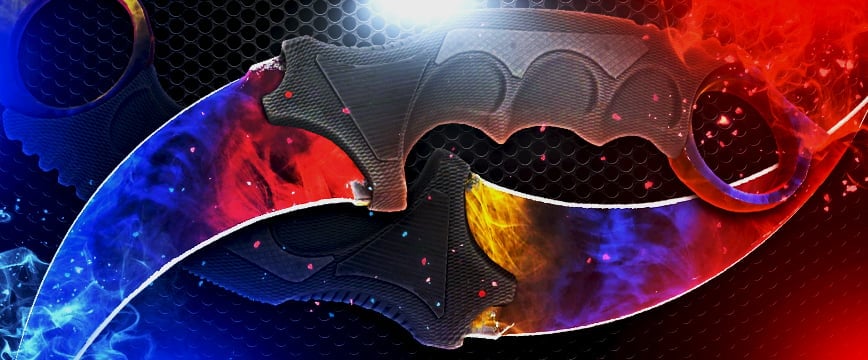 But the Fade is not the most expensive and unique knife skin. Doppler and Gamma Doppler are the undisputed leaders in this niche.
Gamma Doppler Patterns
Doppler and Gamma Doppler skin types are divided into four main phases. Each phase has a different skin pattern. Accordingly, their prices and rarity coefficient are also different. Here is what Gamma Doppler phases look like:
Phase one probably has the least amount of variation of a lot of these phases. It just kind of has a little bit of green, and then it's mainly the darkest purple color for the rest of it. Also, phase one is the least expensive variation among others.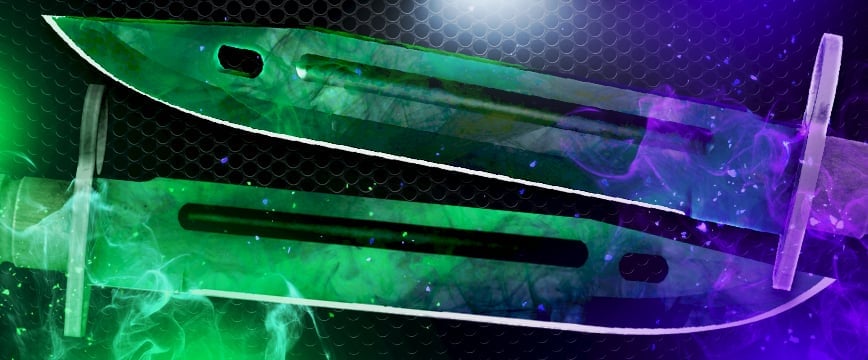 The phase-two is very similar to the unique "emerald", but you must understand that this is not the same thing, and they have a difference. There's still a little bit of black in it, and it does not have the same color of green as the "emerald". However, these are probably worth the most out of all of the phases.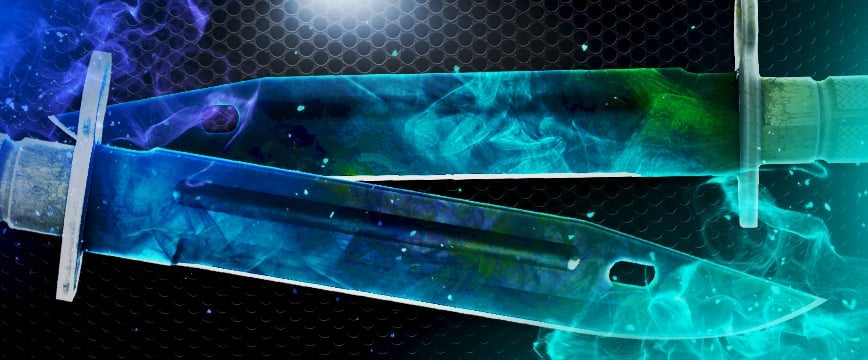 Phase three has been dubbed the "case-hardened killer" by the community due to the abundance of blue on it. But it has not yet been possible to obtain an absolutely blue pattern. The maximum is half blue and half green or with a slight predominance of one of the colors.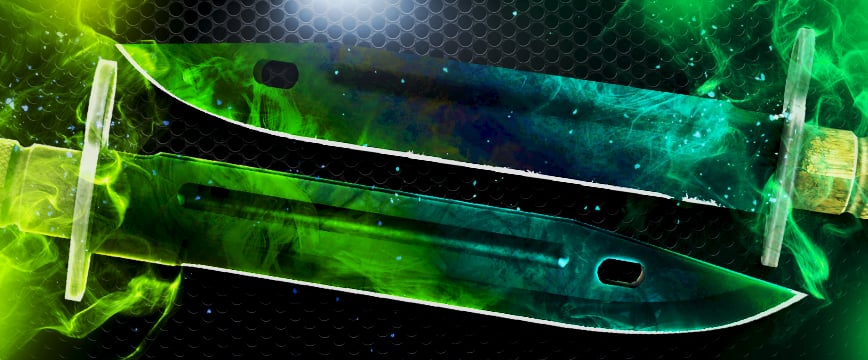 Phase four is one of the most colorful Gamma Doppler patterns. It has a lime green color as well as a kind of gold highlighting and deeply dark purple that, in some patterns, almost completely colors the entire knife. Despite its abundance of colors and shades, the fourth phase is incomparable to "Emerald".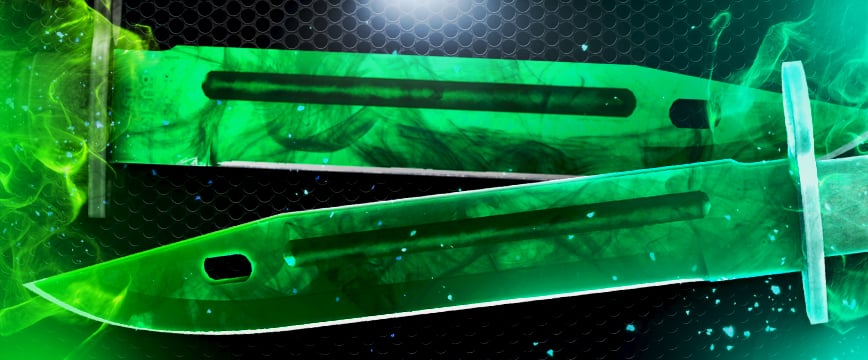 That is the rarest and most expensive Gamma Doppler skin. Yes, its coloring is not as varied as in the previous phases, but in comparison with the quantity, it is difficult to obtain this coloring. Not only do knives from CS:GO cases drop out quite rarely, but for you to drop them completely in an emerald color, you need supernatural luck.
As we mentioned above, Gamma Doppler has a competitor in the form of an older brother. Let's look at this variety as well.
Doppler Pattern
The main feature of absolutely all Dopplers is the icons on the Steam Marketplace, which fully correspond to the coloring in the game itself. Like Gamma Doppler, ordinary Doppler divides into four main phases, but it has as many as three unique phases, but more on that later. Let's look at how the phases of this skin differ from each other.
Phase one of this knife has a dark purple color with slight hints of pink. It is easy to confuse this pattern with "Black Pearl", and often the lucky ones who beat this skin pattern rejoice prematurely. But still, getting such skin is a great success!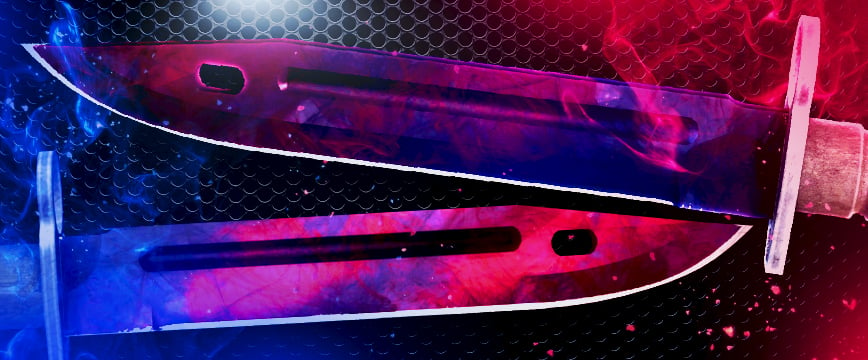 Phase two is quite similar to phase one, except it's a lot pinker. With phase two you can get on some knives that are completely pink, and those are pretty cool looking on the M9 Bayonet. This type of knife stretches the pattern the most, so you cannot get a fully pink phase-two M9 | Doppler, but you can get it on a lot of the other knives.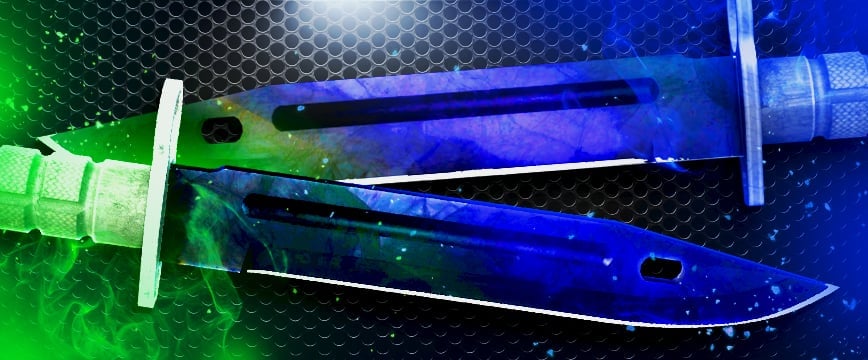 Phase three is mainly black with a little bit of blue and some other colors that commonly be seen within the sunset, such as orange and green. It's quite common to have some orange and green on the back side, sometimes even the play side. It is similar to the first phase in terms of color as well as price.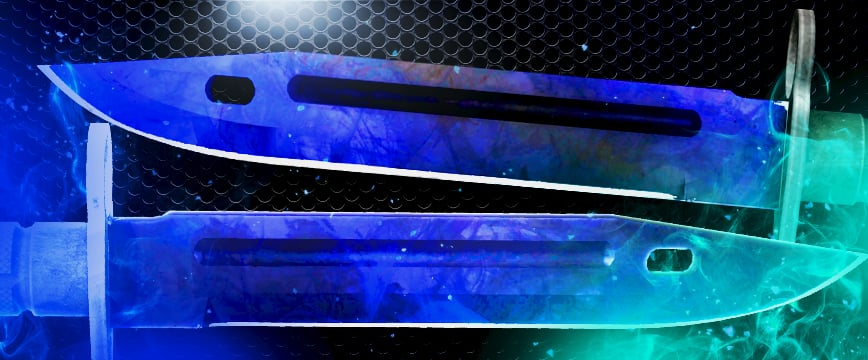 This one looks like phase three except with blue. It's got a ton bluer on it than phase three. In that case, some people try to get a fake "Sapphire", but they cannot get that on the M9 because there's always going to be a big black gap on it. But you can get some that are pretty blue for this phase.
Sapphire some people can get this mixed up with phase four. But, obviously, if there's any black on it at all – it is not sapphire. As you can see, that one on the screen basically has no black besides a few shadows. Everything is completely blue on the sapphire, and you cannot get that with any other phase. Along with Emerald, Ruby, and Black Pearl, this is one of the rarest and most expensive skins.
Black Pearl is statistically the rarest skin from the Doppler series. Even compared to Ruby and Sapphire patterns, its drop rate is much lower. It would seem that it should cost a fortune, but no. Among Doppler rare patterns, it costs the least. That is most likely due to its in-game look. On the solar map, he very much resembles Fade, which greatly affects his uniqueness. Nevertheless, his style is made in dark purple and pink colors. In some patterns, it happens that the tip of the knife has a golden reflection in the game.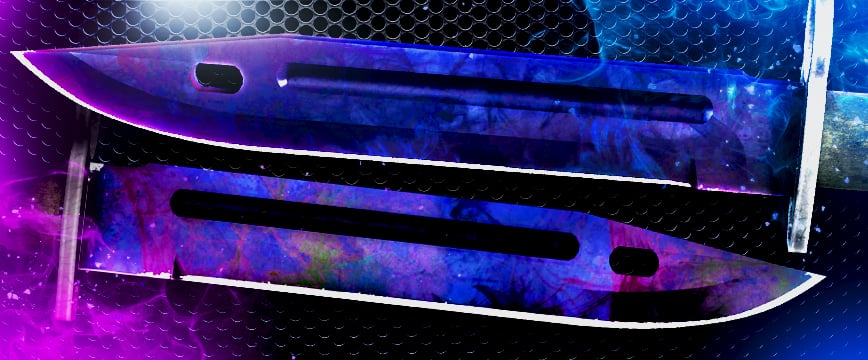 Finally, the last one rare Doppler knife skin – Ruby. The true Ruby must be a hundred percent red. There aren't any black spots or other colors on your Ruby. Some people get it mixed up with phase two because some times are extremely pink, but for Ruby, it's red. So it shouldn't be too hard to differentiate them.
By the way, this knife has two competitors in terms of fan sympathy, namely the Crimson Web and Slaughter. Looking ahead a little, one of them costs two times more than the most expensive Ruby.
Crimson Web Knife
A series of Crimson Web skins is quite old, but despite this, it is still in demand. The skin looks pretty attractive. The red background is decorated with a spiderweb pattern. The presence of more than three web centers on the skin is considered a unique pattern. Such skin will be very expensive. In 2022, it was bought for $12,000, and this is not yet its maximum. Under the right circumstances, a skin can cost even more. Now let's take a look at another alternative to Crimson Web and Ruby.
Slaughter Knife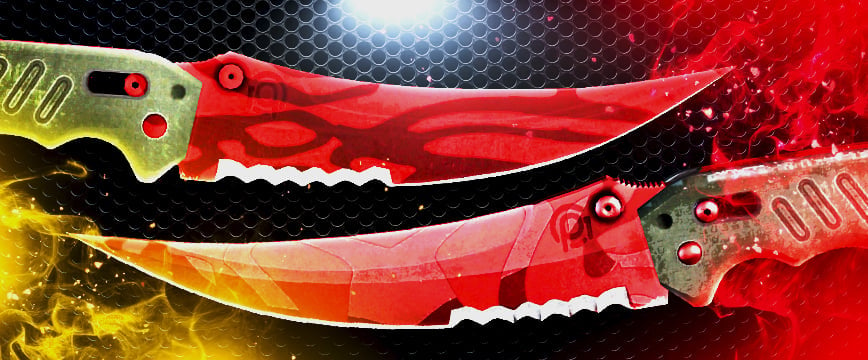 Pretty old skin by CS:GO standards. The feature of this skin lies in the location and shapes of elements that vary depending on the pattern. The most expensive and rare are those that have a pattern resembling a diamond and a heart. In second place in terms of rarity is a pattern with just a heart (without a diamond). And the rest of the patterns with a dog bone, a zebra, or butterfly shapes are the most common.
All the knives presented above are quite expensive. But what if you want to get yourself rare and inexpensive skin in CS:GO? We advise you to pay attention to a series of Kami skins.
Kami Pattern
The pattern of this skin is a Japanese comic. It doesn't make much sense. In short, the novice in it did not know how to defuse the bomb. This skin is only available on Five-SeveN or Galil AR. The main thing in this pattern is the drawing on the game side of the weapon. Patterns that depict a figure of a face, numbers, a bomb, a flying chicken, and others are considered unique. Kami is a great example of how to get yourself original skin for a low price.
Other Patterns
There are many more skins with interesting CS:GO patterns. You can find them on our Hellcase website. And as for those who are not included in the list but are no less worthy of your attention. Glock-18 | Moonrise with a star on the game part or the presence of three moons on it. And also, AWP | Electric Hive with 253 or 273 patterns, so-called "Orange Hive" and "Blue Hive".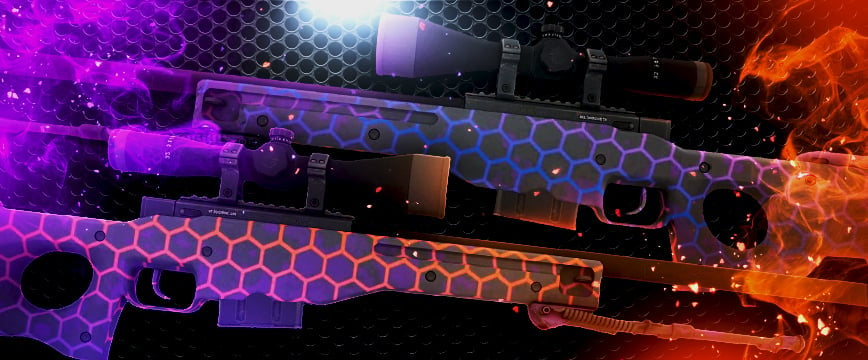 In addition to these skins, many others change their appearance depending on the pattern. These skins have minimal changes, and they also do not have rare CS:GO patterns.
To Wrap Up!
Patterns are a very interesting feature of the CS:GO market. It not only allows you to diversify the game but also provides an opportunity for attentive players to snatch a rare skin pattern. If you can't find the skin pattern you want on the Steam trough, look for it on our website. Hurry up to catch a bargain! Explore our blog for more tips and insights.
Паттерны кс го
Pattern в Counter Strike Global Offensive называется узором, который нанесен на раскраску. Зачастую, паттерны являются отличительным свойством именно ножей, на вооружении они не ценятся. У большинства ножей есть собственный паттерн, который определяет конечную стоимость.
То есть, к цене ножа прибавляется цена паттерна. Таким образом некоторые пользователи еще зарабатывают. На самом деле оценивать узор и определять не так сложно, как могло показаться:
Ножи с раскраской «Поверхностная закалка». На таких ножах, зачастую, ценится только синий цвет. Чем больше синего цвета, тем дороже окажется нож в конечном итоге. Однако в редких случаях можно получить переплату и за золотой цвет. Дело в том, что если золотого цвета огромное количество именно на игровой стороне ножа, то он также имеет приличную стоимость. У профессиональных игроков можно встретить подобный нож с полностью синим оттенком, стоимость которого может достигать пару тысяч долларов.
Ножи с раскраской «Градиент». На подобных ножах ценится количество градиента. То есть, перед рукояткой не должен быть мрачный оттенок. Чем больше ярких оттенков на ноже, тем большую стоимость он имеет в конечном итоге. С градиентами достаточно просто понять то, когда нож редкий или наоборот.
Ножи с раскраской «Убийство». Здесь уже определять будет достаточно сложно, особенно новичкам. Дело в том, что такие ножи ценятся с определенными рисунками. На каждом ноже свой рисунок. Ценятся, зачастую, такие узоры, как бриллиант, а также сердце. Их сочетание также можно встретить и оно имеет рекордную стоимость.
Ножи с раскраской «Кровавой Паутина». Такие ножи также имеет достаточно простое определение узора. Здесь ценятся ножи с большим накоплением паутин. Чем больше паутин, тем выше стоимость. Коллекционеры готовы переплатить за ножи, которые имеют больше двух сетей. Если же на ноже находится одна сеть, то он приравнивается к полному стандарту.
Ножи с раскраской «Волны». Такие ножи оцениваются по рисунку, примерно также, как и убийство. На ноже ценится рубин, это когда нож полностью красный, а также сапфир, который превращает раскраску в фиолетовую планеты. Самый редкий и дорогой соответственно, узор у волн — черная жемчужина. К стандартным рисунком относятся фазы.
На ножах узоры оцениваются именно на игровой стороне. Если же говорить про игровую сторону, то эта та, которая отображается прямо во времяпровождении Counter Strike Global Offensive. Сказать примерную добавку к стоимости невозможно, ведь она постоянно меняется и регулируется исключительно коллекционерами. Желательно узнавать стоимость именно у коллекционеров или на различных проектах, которые занимаются этим на постоянной основе. Только так можно получить достоверные цены, касательно паттерна.