Как включить аим ассист в Fortnite, настроить аим ассист в фортнайт
Приветствуем вас, дорогие читатели. Сегодня мы расскажем вам, как в Fortnite включить аим-ассист, параллельно с этим разобравшись, что это за функция такая и как она работает. Ибо с тех пор, как Epic приостановили работа аим-ассиста Legacy, интернет просто пестрит сообщениями о помощи.
Начнем с того, что расскажем вам, что такое аим ассист. Попросту говоря – это помощь в прицеливании, которая помогает игрокам доводить прицел до модельки врага. Это достаточно необходимая функция на геймпаде, ибо бегать и мансовать там можно не хуже, чем на клавиатуре, а вот точно целиться – практически невозможно.
Вот тут на помощь и приходит аим ассист. Это программа, встроенная в игру, которая позволит вам автоматически наводить прицел на модельку противника. Причем, это не чит, не аим бот, который будет сам перебрасывать прицел на голову противника из невероятных положений.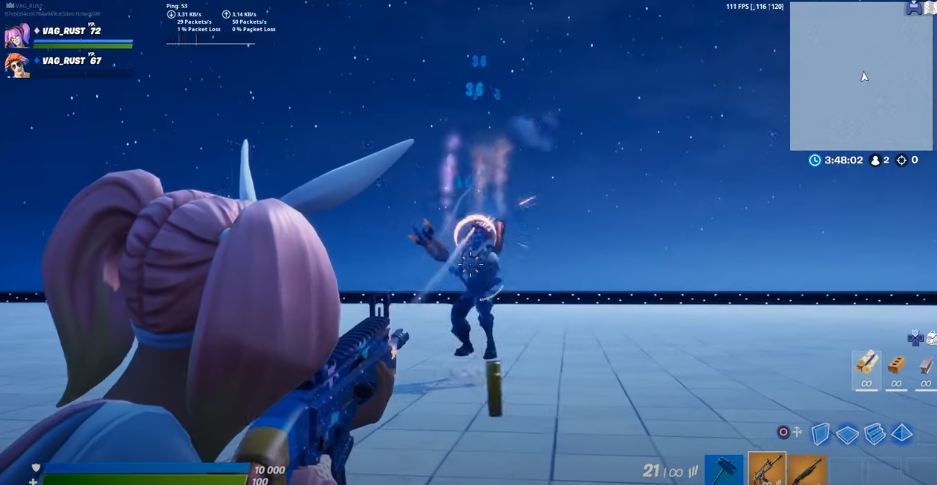 Нет, аим ассист будет лишь помогать вам в том случае, если курок вашего геймпада сам двигается в сторону противника. Т.е., грубо говоря, он убивает тот экранный сантиметр, которого вам может не хватить, чтобы поставить качественный хедшот.
Что касается активации функции, то вам всего-то и нужно будет, что перейти в дополнительные настройки геймпада и найти там раздел «помощь в прицеливании», после чего выкрутить процентный ползунок на максимум (ну или как вам больше нравится – протестируйте, попробуйте).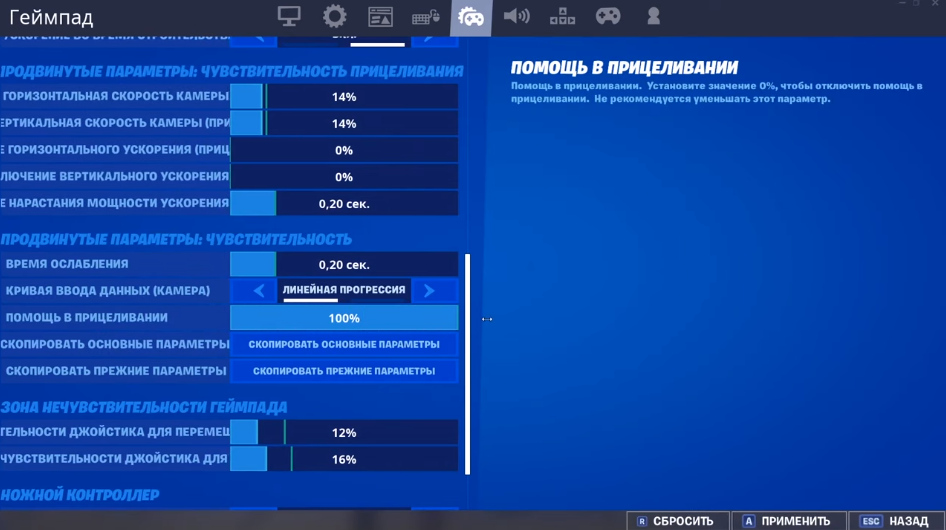 Данная функция – это не аим ассист Legacy, а аим ассист Трекер, более умная и продвинутая программа. Но суть их ничем не отличается.
А на этом мы, пожалуй, и закончим нашу статью, всем удачи и до новых встреч.
Прочитать позже Отправить статью на e-mail Мы не собираем ваши данные и тем более не передаем их третьим лицам Отправить
How to turn on aim assist in Fortnite
Turning on aim assist in Fortnite is crucial if you want to be accurate with your shots.
If you want to get Victory Royales when using a controller, having aim assist turned on in Fortnite is an absolute must. If you're not sure how to do it or why it's important, don't worry, we've got you covered.
There's no doubt Fortnite players who use a mouse to aim rather than a controller thumbstick are able to hit more accurate shots. To try and level the playing field, Epic Games uses a common tool: aim assist.
Sometimes, however, players may worry that their aim assist might be bugged or somehow has been turned off. This is especially important for controller players playing on PC since aim assist is intended to level the playing field between the two major inputs. If you're playing Fortnite on controller and think your aim assist might have been turned off, here's how to turn it on.
How to turn on aim assist in Fortnite
Open Fortnite on your preferred system, and go to the settings menu.
Navigate to the "Controller Settings" menu at the top of the screen, marked by a controller icon with a gear behind it.
Scroll down to the section titled "Sensitivity." The last option will say "Use Advanced Options," make sure this is turned on.
Scroll down to the setting called "Aim Assist Strength" and ensure it is set to 100 percent.
There are several other options that can affect just how your aim assist performs and the exact way your camera moves when you move your right stick around in the Controller Settings, and most of these options come down to a matter of personal preference. But if you set Advanced Options to "On" and Aim Assist Strength to 100 percent, your aim assist should be turned on and you'll be ready for a fight.
Best Fortnite aim assist settings
Look dampening time: 0.20 seconds
Look Input Curve: Linear
Aim Assist Strength: 100 percent
Your Fortnite aim assist settings will generally come down to personal preference. To me, my aim feels best when my dampening time is set to 0.20 seconds and my input curve is linear, but you should definitely try out the different settings and see for yourself.
One I thing I don't recommend however is turning down your aim assist strength. Aim assist is there to help you hit your shots, so doing anything to make it less effective will undoubtedly make it a little bit harder to aim. Whatever you do, do not turn it down, leave it alone!
What is aim assist?
Aim assist functions exactly like it sounds. In some older games, aim assist allowed controller players to easily snap onto enemy opponents or AI by aiming down sights. In more contemporary PvP games, aim assist is usually not nearly this strong, instead simply slowing down crosshair movement when an enemy enters a certain range of the player's crosshair.
Is aim assist good in Fortnite?
Yes, aim assist is good in Fortnite and you should definitely be using it when you're using a controller.
What you should find is that if you do a comparison between aim assist on and off, it's much easier to control your crosshairs with the thumbstick when it is turned on, especially when you engage in a gunfight with an enemy.
I certainly would miss all my shots if I turned off aim assist, and I'm willing to bet a lot of money that your percentage of shots hit would plummet through the floor if you did too.
Now that you have your controller set up properly, make sure you aren't putting yourself at a disadvantage by dropping frames with our guide to Fortnite's best PC settings to boost FPS.
About the author
Adam Snavely
Associate Editor and Apex Legends Lead. From getting into fights over Madden and FIFA with his brothers to interviewing some of the best esports figures in the world, Adam has always been drawn to games with a competitive nature. You'll usually find him on Apex Legends (World's Edge is the best map, no he's not arguing with you about it), but he also dabbles in VALORANT, Super Smash Bros. Melee, CS:GO, Pokemon, and more. Ping an R-301.
Sorry, you have been blocked
This website is using a security service to protect itself from online attacks. The action you just performed triggered the security solution. There are several actions that could trigger this block including submitting a certain word or phrase, a SQL command or malformed data.
What can I do to resolve this?
You can email the site owner to let them know you were blocked. Please include what you were doing when this page came up and the Cloudflare Ray ID found at the bottom of this page.
Cloudflare Ray ID: 7f5f390e0b6a301d • Your IP: Click to reveal 178.132.111.85 • Performance & security by Cloudflare
How To Turn On Aim Assist in Fortnite
Updated on January 20, 2023 by Morgan Truder
The best thing Epic Games has done in years is to make Fortnite work on almost every platform. That's why millions of people try to be the last survivor on the island every day.
Since the game is supported cross-platform on PC, Playstation and Xbox, two groups of players face each other; those who use keyboard and mouse, and those who use gamepads. So let's answer that: How to turn on aim assist in Fortnite?
Videogamer.com is reader-supported. When you buy through links on our site, we may earn an affiliate commission. Learn more / Images from Amazon Product Advertising API / Last updated on 2023-08-12
Aim assist has been on the agenda of millions of gamers who love FPS for many years. This mechanic, which recently surfaced with Warzone, exists to assist players who play Fortnite on a console (or use a gamepad on a PC ). For those who don't know: What exactly is the aim assist?
Aiming with a mouse is easier and faster than using a gamepad. For this reason, aim assist helps console gamers to balance two groups of players in games. It won't let you hit direct headshots, but it'll make aiming easier.
How To Turn On Aim Assist in Fortnite
PC gamers always complain about aim assist in multiplayer games with cross-platform support. This is because they believe that this mechanic helps console gamers more than necessary. While this is sometimes true, the advantage still lies with players using a mouse.
When playing Fortnite on console, don't listen to what PC players say and use the aim assist. Since it can sometimes be turned off in the default settings, it's best to check this setting and turn it on when needed.
You can follow the steps below to enable aim assist in Fortnite:
Open "Settings" while in the main menu or while playing.
Open the Controller Settings tab in the fifth row of the top menu.
Scroll down and find the "Sensitivity" section.
Enable "Use Advanced Options" by selecting "On".
Scroll down and find the "Advanced – Sensitivity" section.
Set "Aim Assist Strength" to 100% in this section.
Save the settings and return to the game.
When you enable the advanced settings, dozens of additional settings will open up that will change the way you aim with your gamepad. It's wise not to play with them too much, because the game's default settings are pretty good. However, you can't only use the aim assist, but also try different settings to find the most accurate averages for you.
That's all we shared about how to turn on aim assist in Fortnite for now. After the latest updates, the aim assist in Fortnite works exactly as it should. While it doesn't offer much of an advantage to console players, it does help eliminate some of the PC player superiority. You can already feel it when you use this setting.